Frequently Asked Questions
What is a Party Room?
A Party Room is where you and your friends can get together to play a game of Trivia.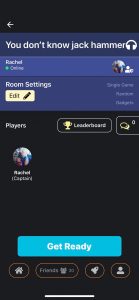 You can Search for Party Rooms from the Lobby
You can also create a new Party Room, or access existing Party Rooms from within your Profile and Category Screens
To locate and invite your friends to your Party Room, click "Friends"
To check the Party Rooms high scores, click the "Leaderboard" button
To organize and plan your next game with your friends, click the Chat icon
To manage your Party Room settings, click the "Edit" button
To prepare your next game and review your Boosts, click the "Get Ready" button
How do you make changes to your Party?
While in your party room, click the Edit button. From here you can change the Category and Difficulty of the next game. You can also change your Party Rooms' name and even make your Party private.
What is a Boost?
A boost is a special move that gives players an advantage during the Game session.
Check out how many Boosts you have by clicking on the rocket. Boost your chance of dominating your trivia game by adding more Boosts to your account.
Types of Boosts
50-50 Boost: The 50-50 Boosts removes half of the wrong answers giving you a 50-50 shot at getting it right.
Points Doubler: The Points Doubler gets you double the points when you answer the question right.
Time Stopper: The Time Stopper gives you extra time while scrambling the words for everyone else.
How do keys work?
Part of the fun with Trivia Day is unlocking new Categories to conquer. Keys let you unlock new categories, as well as, additional Party Rooms. You are given 2 keys when you first start. Additional keys can be purchased from the shop.
How do I start a game with friends?
From the Party Room, click "Friends"
Find a friend and click "Invite"
Close the Friends overlay
Click "Get Ready" and review your available game Boosts
Once all players are ready, click "Start Game"
How many rounds are in a game?
There are 3 rounds in every Trivia Game.
How can I know who is the Trivia master?
Check the Leaderboard to see who is ranking the best in a Party Room.